Since its inception, Ultratec has continually looked for new ways to make telephone communication more convenient for people with hearing loss, eliminating barriers to the phone through technology.
The VIP COMMUNICATOR – The world's first hand-held pocket-sized TTY is introduced.
Debuting at the National Association of the Deaf (NAD) conference in Rochester, NY, Ultratec sought feedback from consumers to better understand what was needed and make improvements.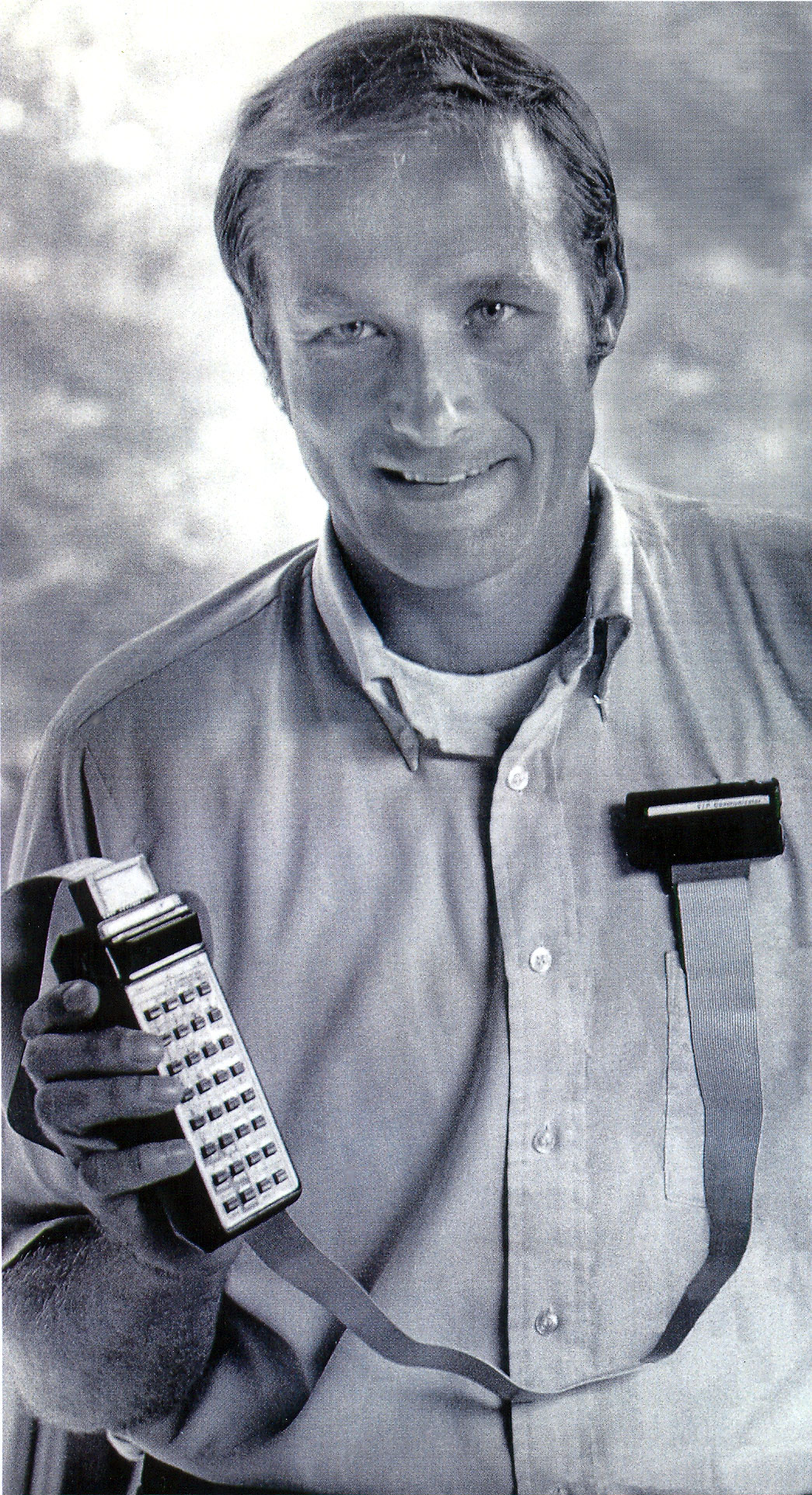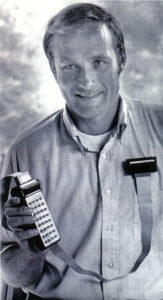 Ultratec introduces the SUPERPHONE – The world's first TTY with memory, ASCII code, voice output, and touch-tone input.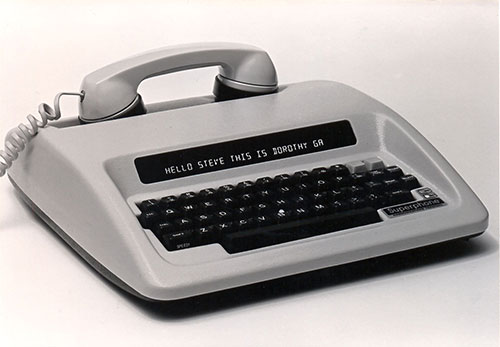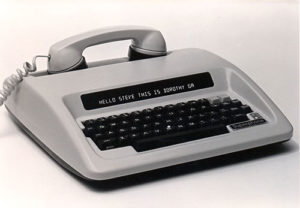 Ultratec introduces the world's first low-cost, full keyboard TTY, the MINICOM, making TTYs affordable to tens of thousands of people who are deaf or hard of hearing.
Ultratec introduces the MINIPRINT – The world's first low-cost, printing TTY.

Ultratec welcomes Dr. Robert H. Weitbrecht, inventor of the first TTY and renowned physicist, to its engineering staff.

Ultratec introduces the first portable braille TTY for persons with both visual and hearing loss.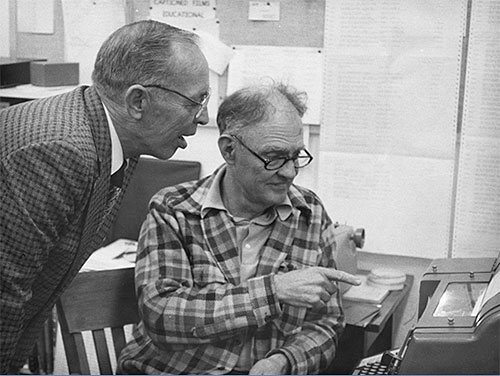 Minicom II
Ultratec introduces the MINICOM II – An enhanced, extremely low-cost TTY that quickly becomes the market leader.

Ultratec introduces the WATCHMAN SIGNALING SYSTEM – A low cost, flexible family of signalers for alerting people with hearing loss to telephone ring and other household sounds.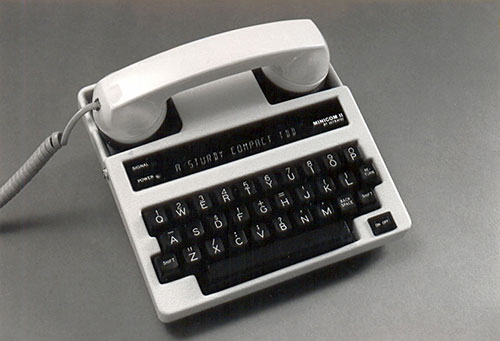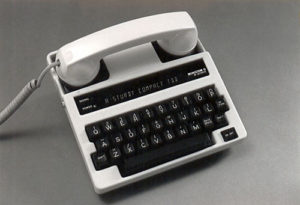 Ultratec introduces the INTELE-TYPE – The first portable 80-column printing TTY with upper/lower case letters, sophisticated multiple memory features, and auto answering.

Ultratec introduces the INTELE-MODEM – An ASCII/Baudot converting modem that allows home computers and ASCII terminals to communicate with TTYs.

Ultratec collaborates on the TELEBRAILLE – A second portable braille TTY with advanced features and greatly reduced size and cost.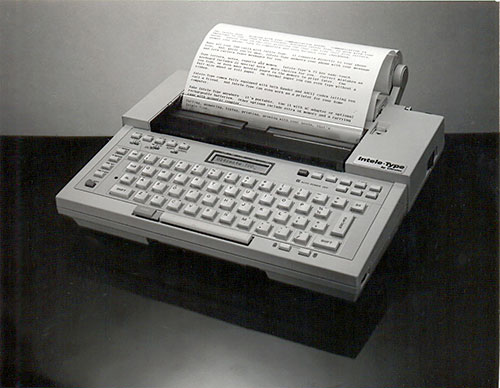 Ultratec introduces the SUPERPRINT SERIES – The first modular, upgradeable series of printing TTYs with memory, auto-answer, ASCII, and human engineering to simplify training and use.

Ultratec makes a significant technical breakthrough with ENHANCED ACOUSTIC RECEPTION SYSTEM (E.A.R.S.) which greatly reduces compatibility and reception problems that have plagued users for years.

Major telephone companies including Illinois Bell, General Telephone of California, Michigan Bell, Southern New England Telephone, Hawaiian Telephone, Alberta Government Telephone, Ameritech Services, Southern Bell, Bell South Services, and Manitoba Telephone choose Ultratec as their supplier of TTY equipment.
Ultratec develops the MINICOM III and IV series of low-cost TTYs with expanded features and better improved factors.

Ultratec develops the VOICE ANNOUNCER which tells the person receiving the call that a TTY is being used. This innovation reduces the risk of mishandled emergency calls and gives the TTY user a positive method of indicating the nature of the call.

Ultratec continues to expand its service network across the United States and Canada, and begins establishing sales and service facilities in South America and Europe.
Ultratec introduces the SUPERCOM, the first low-cost fully featured TTY.

Ultratec introduces the TDD DETECTOR, a device that connects to the telephone line to detect incoming TDD/TTY tones so that emergency service agencies will respond appropriately.

Ultratec begins manufacturing TTYs that communicate in numerous languages and codes for use in countries throughout the world.

Ultratec introduces the first public access TTY, the PAY PHONE TDD (PUBLIC TTY), capable of being installed in pay phone booths.
1988
Ultratec develops the first LARGE VISUAL DISPLAY for TTY users who are visually impaired.

Ultratec introduces the SUPER SIGNAL SYSTEM, the first comprehensive system that alerts the user to all of the sounds in his or her home with addressable modules.

Ultratec invents and patents VOICE CARRY OVER and HEARING CARRY OVER (VCO/HCO) for dual party TTY relay systems, whereby a person may use his or her own voice to speak directly to the other party through the relay and have the operator relay text in the other direction.
1989
Ultratec introduces five new models of TTYs including models designed expressly for use by 9-1-1 and other emergency providers.

Ultratec expands its operations to Great Britain, establishing a European sales office whose President and top management are deaf. Working closely with British deaf groups and British Telecom, new TTY models are designed to meet the unique specifications for Great Britain's deaf telecommunications network.

Ultratec continues to expand its product line to include TTYs for more than 25 countries, 12 different languages, and four different telecommunications codes.

Ultratec begins design and planning of its new TECHNOLOGY CENTER.

In hearings before the California Public Utilities Commission, Ultratec TTYs are demonstrated to be more reliable and cost effective by a large margin in comparison to other TTY brands in California's TTY distribution program, the nation's oldest and largest distribution program.
1990
Ultratec introduces the COMPACT, a fold-up, pocket-sized TTY for mobile communications with advanced features for connecting to computers and information services. This is the first of several new generation products Ultratec will produce for the world TTY market.

Ultratec expands its capabilities to include robotic assembly.

Construction begins of the ULTRATEC HEADQUARTERS in the University of Wisconsin Research Park in Madison, Wisconsin.

Ultratec begins building TTY products for AT&T.
Ultratec is awarded its 21st state distribution program contract.

Ultratec moves into its new 72,000 square foot barrier-free CORPORATE HEADQUARTERS AND TECHNOLOGY CENTER facility.

As an employer with over 20% of the staff being persons with special needs, Ultratec is awarded a training grant for training staff with disabilities.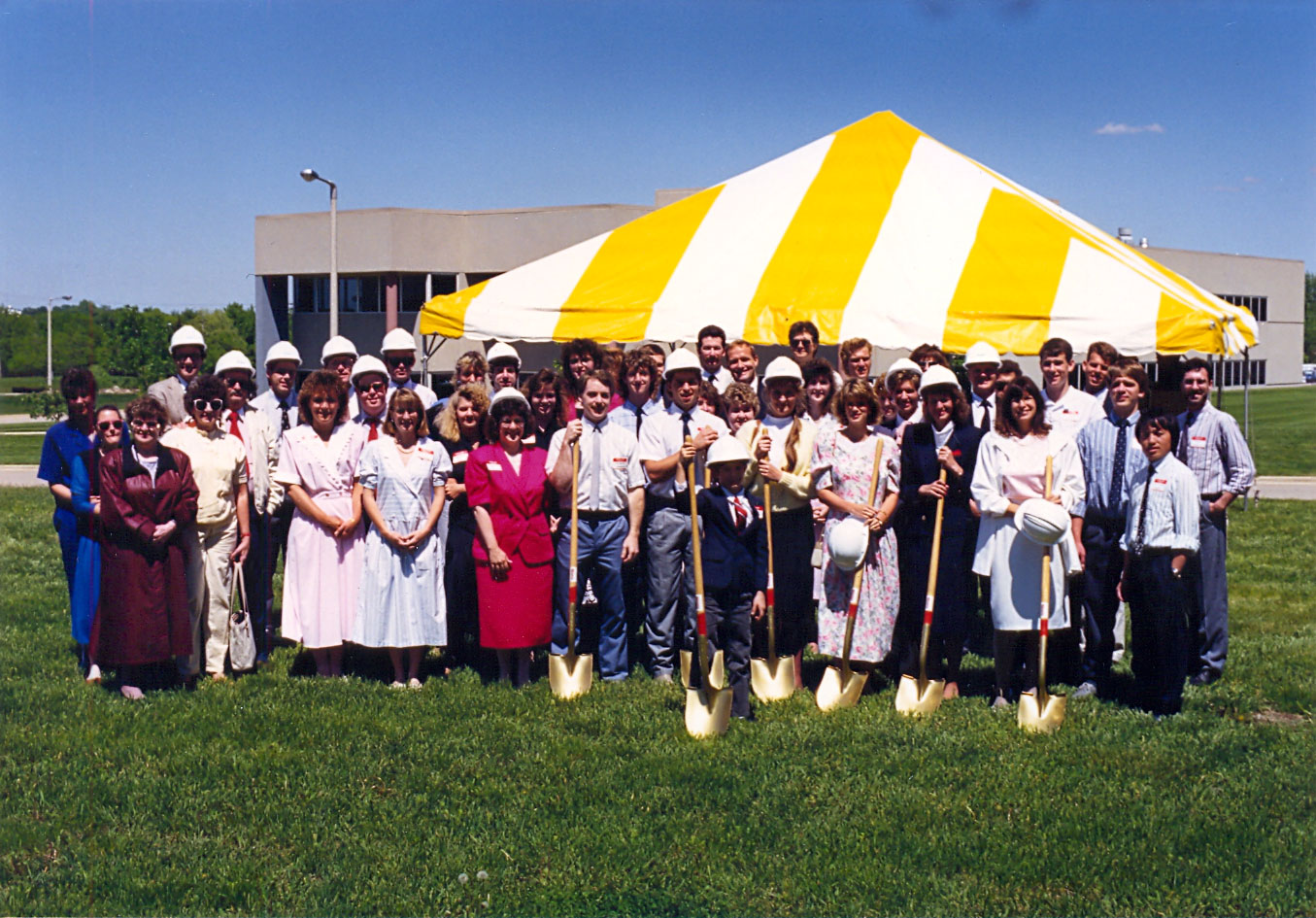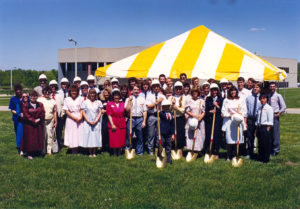 Ultratec introduces a new series of the PAY PHONE TDD (PUBLIC TTY). This is a motorized model for use in high traffic areas. There is also a motorized model designed for outdoor, all-weather applications.

Ultratec develops AUTO ID. Auto ID is activated when the TTY is turned on. TTY tones are automatically sent to alert the answering party, such as emergency service personnel, that it is a TTY call.

Ultratec develops and patents TURBO CODE, an enhanced communications protocol that allows TTY users to transmit their words as fast as they type. As long as both TTYs are equipped with Turbo Code, telephone conversations for TTY users are in "real-time."

SUPERPRINT 4420, introduced by Ultratec, is a compact, printing TTY that offers the most advanced features available in a TTY. The Superprint 4420 offers a built-in printer with three selectable print sizes, call progress, optional ASCII, time and date functions, Auto ID, and Turbo Code.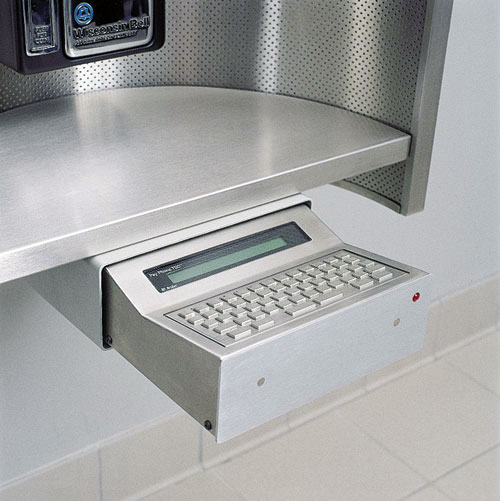 Ultratec introduces the UNIPHONE, the first ever combination TTY, standard telephone with volume control, and voice carry over TTY. The Uniphone can be shared by people who are deaf, hard of hearing, or hearing, making it the first universal phone that everyone can use.
Ultratec introduces new fully-featured SUPERPRINT 4225 for acoustic use, 32k memory, Turbo Code, and convenient GA/SK keys.

Ultratec announces a new design and new features for its series of printing TTYs. The new look includes a white and gray computer-style keyboard with convenient GA/SK and arrow keys. New model numbers in the series are SUPERPRINT 4425, MINIPRINT 425, and MINIPRINT 225.

Ultratec introduces the new SUPERCOM 4400, the latest in the company's line of advanced TTYs. The SUPERCOM 4400 is a non-printing TTY that includes advanced capabilities such as Turbo Code, Auto ID, auto-answer, 32k memory, and direct connect features.

Ultratec expands on Uniphone all-in-one technology to offer customers a choice between a basic model (UNIPHONE 1000) and an advanced model (UNIPHONE 1140) with memory, auto-answer, and dialing directory.

The UNIPHONE 1150, a version of the Uniphone designed specifically for use in the UK, is tremendously well received in England.

The Ontario Ministry of Health approves new Ultratec TTYs for its Assistive Devices Program in Canada. The program, which included Ultratec products since it first began, now offers over sixteen Ultratec models to choose from.
Ultratec designs a new low-priced, easy-to-install shelf-top PUBLIC TTY. The new PUBLIC TTY ST simply bolts to any existing payphone shelf, making installation quick and easy. While still vandal-resistant, the new model can be used acoustically so it can be installed independently of the telephone service provider.

Ultratec begins designing and producing alpha-numeric paging products for Motorola, the recognized leader in the rapidly expanding paging market.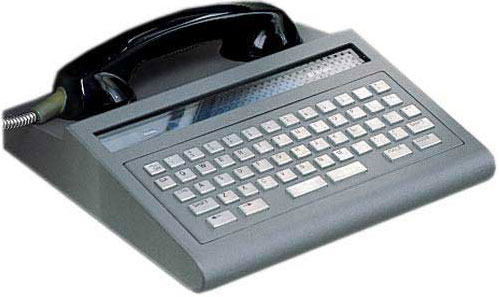 The MINICOM 7000 SERIES of advanced text telephones is introduced in the UK. Both the MINICOM 7000 and the MINICOM 7000 PLUS feature advanced technology including direct connect, auto-answer, 32k memory, and a Relay Voice Announcer that tells hearing callers to phone through the National Relay Service. The Minicom 7000 Plus also includes a built-in printer.

Ultratec introduces the EZCOM PRO TTY – A simple, low cost, direct connect only TTY with directory dialing, speed dial Relay key, an easy to use VCO request key, and a long battery life for portable use. The EZcom Pro is the first truly portable direct connect TTY that can be used with a cellular phone and a data interface.

TURBO CODE and AUTO ID become standard features offered in ALL Ultratec desktop TTYs.
Ultratec announces the SUPERPRINT PRO80 TTY(tm) – The most advanced TTY available. Designed for direct-connect use only, it includes a full-size computer keyboard, extra large 32-character display, and a built-in, full-size 80-column printer that uses traditionally sized (8 1/2″ wide) thermal paper. CALLER ID capability is included in a TTY for the first time, as well as customer favorites such as Auto-Answer, dialing directory, Relay Dial key, Relay Voice Announcer, Turbo Code, and Auto ID.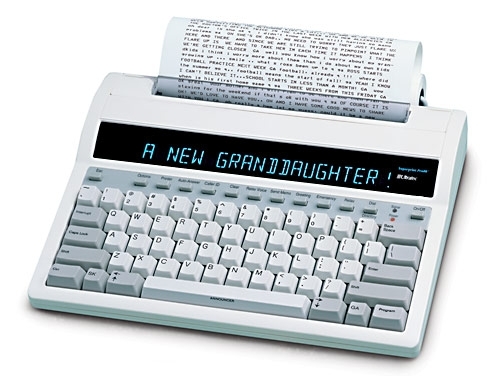 Ultratec, Inc. celebrates 20 years of connecting people with people!

Ultratec announces two new additions to the SUPERPRINT PRO80 SERIES. The SUPERPRINT PRO80 GOLD(tm) and the SUPERPRINT PRO80 LVD(tm) TTYs. Both models boast all of the features of the standard SUPERPRINT PRO80 plus enhanced display options and other features.

The SUPERPRINT PRO80 GOLD offers a two-line, 80-character display for easy reading of conversations and Caller ID information.

The SUPERPRINT PRO80 LVD offers an impressive built-in Large Visual Display (one-line, 20-characters) for low vision users. The Superprint Pro80 LVD model also offers extra large printing capability in addition to the three print sizes offered in all Ultratec printing TTYs.

The COMPACT/C and the EZCOM PRO/C TTYs join Ultratec's line of products as ideal TTYs for use with analog cellular or cordless telephones. Ultratec is the first company to offer wireless TTY access that is easy and more affordable than previously available on the market.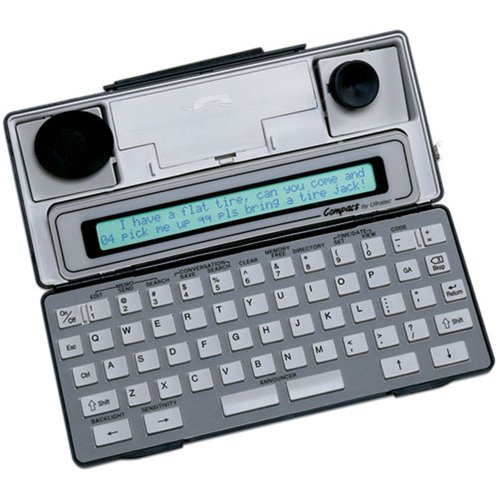 Ultratec announces the CRYSTALTONE premiere amplified telephone. CrystalTone gives users flexibility to customize the sound quality, tone control, and volume level that they hear best. In addition to offering one of the most powerful amplifiers available, the CrystalTone includes an extremely loud ringer, a bright visual ring flasher, and popular phone features like redial, memory dial buttons and a large, easy-to-see keypad.

Ultratec introduces its second phone in the CrystalTone line, the CRYSTALTONE PLUS. This top-of-the-line phone offers the most powerful amplifier (up to 50dB), a built-in traditional speakerphone and quality sound enhancement while screening out background noises.

Ultratec and Sprint conduct a six-month technology trial in which Sprint's Telecommunications Relay Service uses Ultratec's new voice recongnition technology. FASTRAN is intended to improve the quality of communications for all relay users (deaf and hard-of-hearing) to communicate by phone.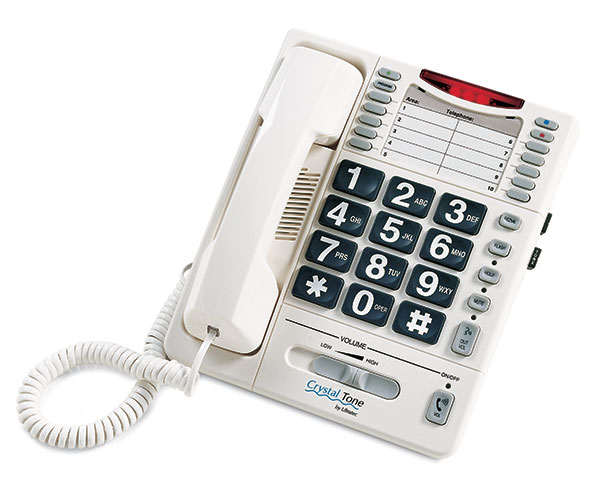 Ultratec announces a powerful new loud telephone ringer – the CRYSTALTONE RINGER. The latest in the company's CrystalTone line of amplified products, the new ringer amplifies up to 95dB, substantially louder than the volume of a traditional ring.

Consumer testing begins on CAPTEL, or Captioned Telephone, a new breakthrough that allows people who have difficulty understanding what is being said over the telephone to receive live captions of their telephone conversations. CapTel is the key to making telephone calls functionally equivalent to traditional voice calls, enabling people who are deaf orhard of hearing to enjoy telephone conversations with the same ease, speed, and confidence as telephone callers everywhere.

Ultratec introduces the new SIMPLICITY SIGNALERS an attractive system of signalers that turn everyday sounds into signals that can be seen. Individual units include a variety of TELEPHONE RING SIGNALERS, DOORBELL SIGNALERS, SOUND SIGNALERS, REMOTE RECEIVERS and the ADD-ON STROBE. Simplicity also includes an exclusive wireless doorbell signaler, which uses radio frequency instead of traditional wires.

Ultratec is named International Research Park COMPANY OF THE YEAR by the Association of University Related Research Parks. In presenting the award, AURRP commends Ultratec's leadership in advancing technology, its dedication to quality and innovation, and its commitment to diversity in employment practices.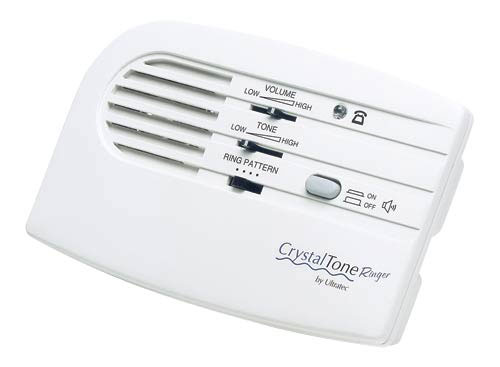 Ultratec unveils its new five-story COMMUNICATIONS RESEARCH CENTER, the company's third building in the University of Wisconsin Research Park. This stunning landmark facility is dedicated to testing and supporting new communications technologies, including CapTel captioning service.

Every Relay in the nation supports Ultratec's enhanced communications protocol, TURBO CODE.

Ultratec adds the SIMPLICITY TELEPHONE/DOOR SIGNALER LTW. This combination signaler provides a cost-effective way to be alerted to both the doorbell and the telephone.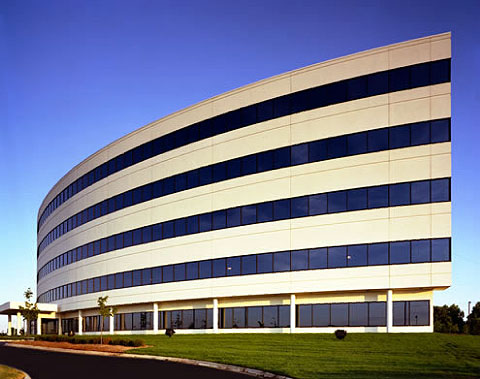 Communications Research Center
2002
Consumer testing continues on CapTel throughout the United States, with more and more states conducting consumer trials over the course of the year.

In recognition of its adoption of Ultratec's CapTel and Fastran technology, the state of Wisconsin receives the NASCIO Recognition Award for Outstanding Achievement in the field of Information Technology.
2003
CapTel technology is APPROVED BY THE FCC, enabling individual states to offer CapTel as part of their relay services. In announcing the decision, FCC Chairman Michael Powell states that CapTel "brings important innovation and additional choice to Americans with hearing disabilities."

Ultratec develops 2-line CapTel, offering CapTel users even greater flexibility/control over their own calls.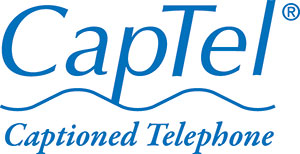 2004
In January, Hawaii becomes the first state to offer FULL SERVICE CAPTEL to its Relay customers.  Many more states convert from consumer trials to full service CapTel over the course of the year.  By December, the majority of states, nationwide, offer full service CapTel as part of their standard relay service.  CapTel service is also available nationwide through the Federal Relay Service.
2005
Expansion continues at Ultratec's Communications Research Center as interest and demand for CapTel service continues to soar.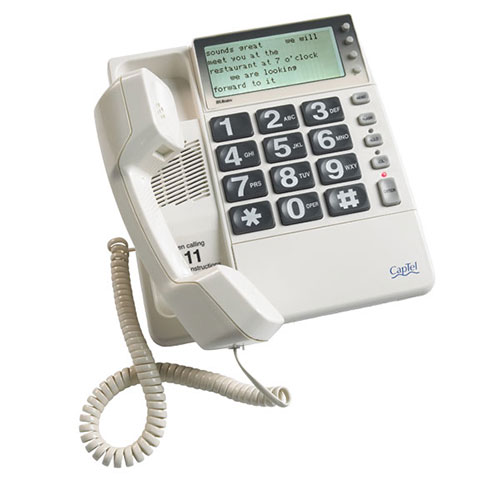 The FCC approves IP-BASED CAPTEL service, paving the way for people to receive CapTel captions of their telephone calls using the convenience of the Internet.
2007
CapTel expands to open a NEW CALL CENTER in Milwaukee, Wisconsin. Located in the heart of downtown Milwaukee, the new call center provides expanded service for CapTel users nationwide, while creating hundreds of job opportunities for local residents. Milwaukee Mayor Tom Barrett officially opens the new center.
2008
Both Hamilton Relay and Sprint begin offering WEBCAPTEL service over the Internet. WebCapTel enables people to view captions of their telephone calls in their web browser during their conversations. With WebCapTel, people use whatever telephone they want – their cell phone, business phone, or home service – and still view captions of the call on their computer screen.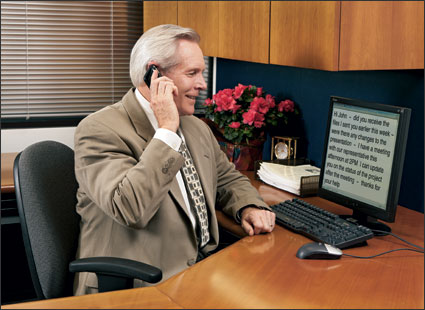 Ultratec releases the 800 Series of captioned telephones. Both the CapTel 800 and CapTel 800i feature a larger caption screen, expanded menu options and instant access to CapTel Customer Service with the push of a button.

The CapTel 800i is the first captioned telephone designed specifically for use with high-speed Internet service. The CapTel 800i connects to both a telephone line and an Ethernet/IP connection. The telephone line carries the voice portion of the call while simultaneously using the Internet to access the CapTel Captioning Service.

Ultratec works with ACE in Australia to set up a CapTel captioning service trial to provide more accessible telecommunications for people in Australia who are hard of hearing.
With the increased use of CapTel Captioning Service, CapTel Customer Service expands and moves into a new facility in Madison, Wisconsin.

Pam Holmes, CapTel Customer Service Director, is appointed by President Barack Obama to serve as a member of the National Council on Disability (NCD). The NCD works to promote policies and practices that guarantee equal opportunity for all individuals with disabilities.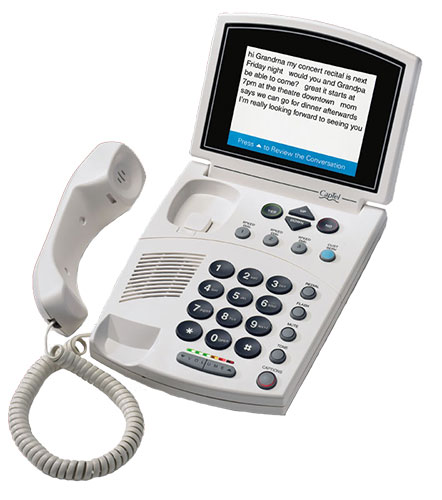 CapTel Customer Service expands its hours to be available 24 hours a day, 7 days a week, ensuring those that rely on the CapTel service have access to help whenever it is needed.
Rob Engelke is awarded an honorary doctoral degree from the University of Wisconsin – Madison. In conferring the degree, the university cited Mr. Engelke's decades-long dedication to "creating extraordinary advances that have enabled deaf and hard-of-hearing people worldwide to communicate via telephone."

Ultratec releases the CapTel 840i captioned telephone. For the first time, users can take advantage of a built in answering machine that provides both voice messages and captions. Other features include a larger caption screen and additional font sizes and colors. It is the first CapTel phone to work with WiFi networks.

CapTel Service Specialists (CSS) opens. Located in Orlando, Florida, CSS provides CapTel captioning support for people with hearing loss.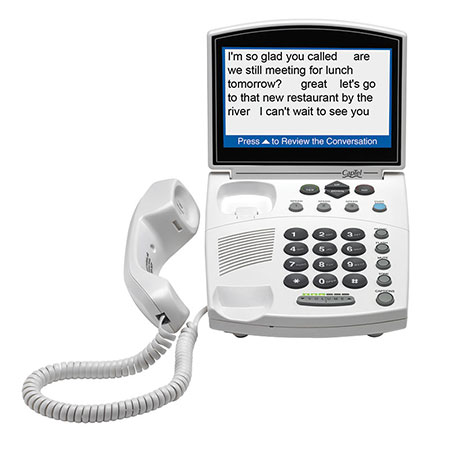 Ultratec, Inc. Celebrates 35 years of connecting people with people!

Ultratec releases the CapTel 880i Captioned Telephone. Ideal for people with low vision, the phone features an extra large display screen and font options for people who have difficulty viewing standard sized captions. It also includes a built in answering machine and WiFi capability.

Ultratec and Sprint work with MBIE in New Zealand to set up CapTel captioning service to provide more accessible communications for people in New Zealand who are hard of hearing.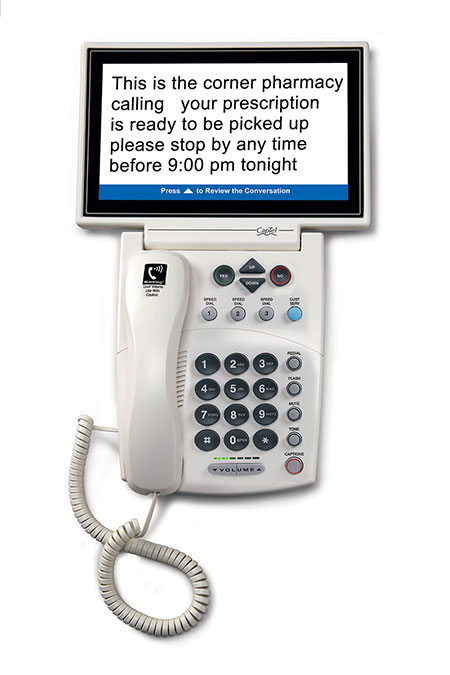 Ultratec release the CapTel 2400i. This is the first CapTel phone featuring touch screen technology. Other features include a large colorful display, dial-by-picture capability, a built-in answering machine and WiFi capability.

Ultratec breaks ground to expand its corporate headquarters in the University of Wisconsin Research Park. The expansion is needed to house the growing CapTel Customer Service team.

Ultratec receives the Robert R. Davila Angel Award at ALDAcon's annual conference in Norfolk, Virginia. The award is named in honor of Dr. Robert ("Bob") R. Davila, a long time educator and respected member of the Deaf community who is a former President of Gallaudet University and has served in the U.S. Department of Education, where he advised the President on disability issues.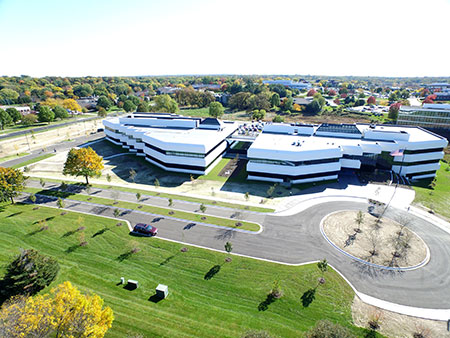 CapTel introduces a Speaker phone update for the CapTel 2400i allowing user's hands-free convenience while seeing captions of their calls.
CapTel introduces Bluetooth(R) connectivity to the CapTel 2400i allowing user's to connect their Bluetooth enabled devices.

CapTel Customer Service moves into its new location adjacent to the Ultratec headquarters in the University of Wisconsin Research Park.

CapTel expands to open a new call center in Appleton, Wisconsin.

CapTel Service Specialists expands to open a new call center in Tampa, Florida.

CapTel releases CapTel 880iB Braille CapTel. Designed for people who are blind and who also have hearing loss, Braille CapTel enables people to read braille captions of everything a caller says over the phone. Recognized industry-wide as an accessibility breakthrough for those who have multiple disabilities.
CapTel Service Specialists expands to open a new call center in Arlington, Texas.

OEI outreach team continues to expand nationwide to provide Outreach, Education, and Installations for CapTel captioned telephones. Provides local, on-site support for CapTel users.
Ultratec founder and president Robert Engelke is honored at the Telecommunications for the Deaf, Inc. (TDI) 50th anniversary celebration, named as an honorary co-chair in recognition of the work he and Ultratec have done to improve telecommunications access for people with hearing loss.

History of TTY video released commemorating, in part, Ultratec's role in advancing text telephone communication for people who are deaf. – https://deafseniors.us/lifeline-for-deaf-people-by-al-sonnensthral
Sprint, one of CapTel's captioning service partners, merges with T-Mobile, begins offering CapTel by T-Mobile service.

CapTel captioning service operations expand to, among other things, make it possible to provide CapTel service remotely.